Aver Vera Guide to Explosive Atmospheres
Flameproof conversions of industrial machinery require proper understanding of hazardous area classifications as well as to meet various IEC 60079 series of standards coupled with an understanding of local standard code of practice or guidance before carrying out any flameproof conversion  .
In Europe, the current ATEX directive 2014/34/EU guidelines established that an existing machine is protected and certified to a  suitable and safe for use in ATEX zones known as Cat 2G & 3G as well as 2D & 3D hazardous area.
In USA, the authority having jurisdiction exercise control for industrial truck operation in hazardous location and determine compliance to OSHA or NFPA505 applicable standard code.
In Australia and Asia, ATEX is not mandatory; however, the individual country or companies in the country may have their own set of rules and regulation in establishing code of practices and guidance notes to prevent explosion hazards from ever occurring.
Every conversion carries out is a specific project in its own right and consequently requires its own specific process and method.
The first stage of the project is to consult with the client to find out about the demands that are usually placed on the equipment depending on the zone and conditions of use.
By taking into account the whole context in which the equipment is used, we can better determine the correct zoning for the site, or optimize the usage scenarios.
Once the Category, the Group, and the Class of the machine (or equipment) have been determined, the conversion process begin with compliance to meet with the relevant codes and standards and consultation with experts in the best conversion methods. This explains why the conversion process takes about more than 8 weeks to complete after certification is completed by the notified body or relevant authority having jurisdiction.
Finally, the conversion process do not end with the truck being certified, documented, trained and  delivered to the site but start a longer aftercare program from cradle to grave responsibility of ensuring that proper maintenance, service support and annual audit which we are proud to provide to all our customers.
The ATEX explosion protection conversions of the diesel engine for use in areas classified as Zone 1 (2G) and Zone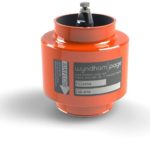 Automatic Mechanical Action Automatically closes once a set engine speed is exceeded. NO external speed sensor required. Compact Design The
Under Construction