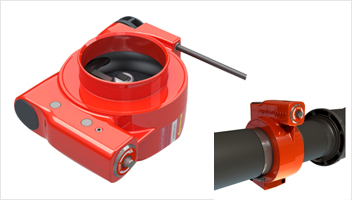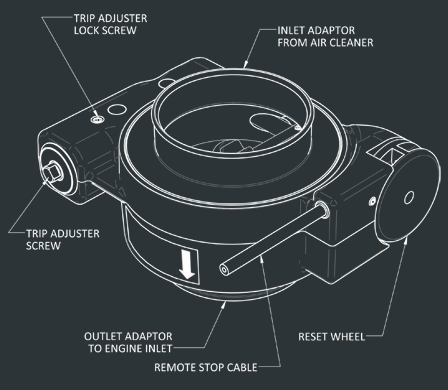 Automatic Mechanical Action
Automatically closes once a set engine speed is exceeded. NO external speed sensor required.
Compact Design
The narrow design of the valves provide minimal removal of intake hose to fit the valve. An advantage with the compact layout of modern engines.
Easy to Set Up
Once fitted, setting up the valve to shut down some 20% over normal maximum operating revs is just a matter of rotating the external adjuster and locking when correctly set. There is no requirement to remove the engine air intake hose during adjustment.
Less intake air restriction
The design uses a unique low friction trigger mechanism, this allows the valve disc to sit well above its closed position during normal engine operation, resulting in reduced engine air intake pressure drop thereby minimising any effect on the efficiency of the engine.
Emergency remote stop as standard
Latest safety standards require the ability to test the shutdown and have the option to shut the engine down in an emergency. This valve can be remotely shut down by operating a pull cable stop. Variable cable lengths are available to suit application.
Manual reset after automatic shut down
Prevents an immediate restart by not automatically re-setting. An important safety feature as it requires the operator to investigate the cause before manually resetting the valve.