Key features:
Operate independently of any external power or signal input to give automatic closure on engine overspeed. For enhanced safety can be supplied also fitted with a mechanical cable for a remote manually actuated shut down. Smaller models in this valve range are optionally available combined with an engine air cleaner to facilitate installation.
Complete with formed hose adaptors to fit into the engine air intake hose
Compact lightweight but rugged construction
Easily serviced
Proven technology
Overspeed trip setting easily adjusted
Automatic reset after engine has shut down
Metal to metal valve seating with long life
Sizes available to suit a wide range of small to medium sized engines
Suitable for fitting to either naturally aspirated or turbocharged engines
Full installation and setting instructions supplied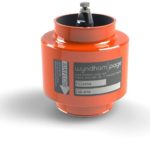 Wyndham Page basic automatic overspeed shut down model. Available in sizes to suit engine ratings from 3kW[4hp] to 290kW[389hp]. Higher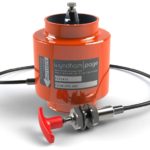 Wyndham Page E-M series valves as per basic E valves but also include a cable operated manual shut down feature.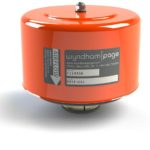 Wyndham Page E03F/ E03FM Valves
Wyndham Page E03F valve combined E valve and engine air cleaner. Available only for engine ratings in the range from