ATS Single Point Lubricators
ELECTRO-LUBER™ Series
O P T I O N A L  R EMO T E  C O N T R O L  A V A I L A B L E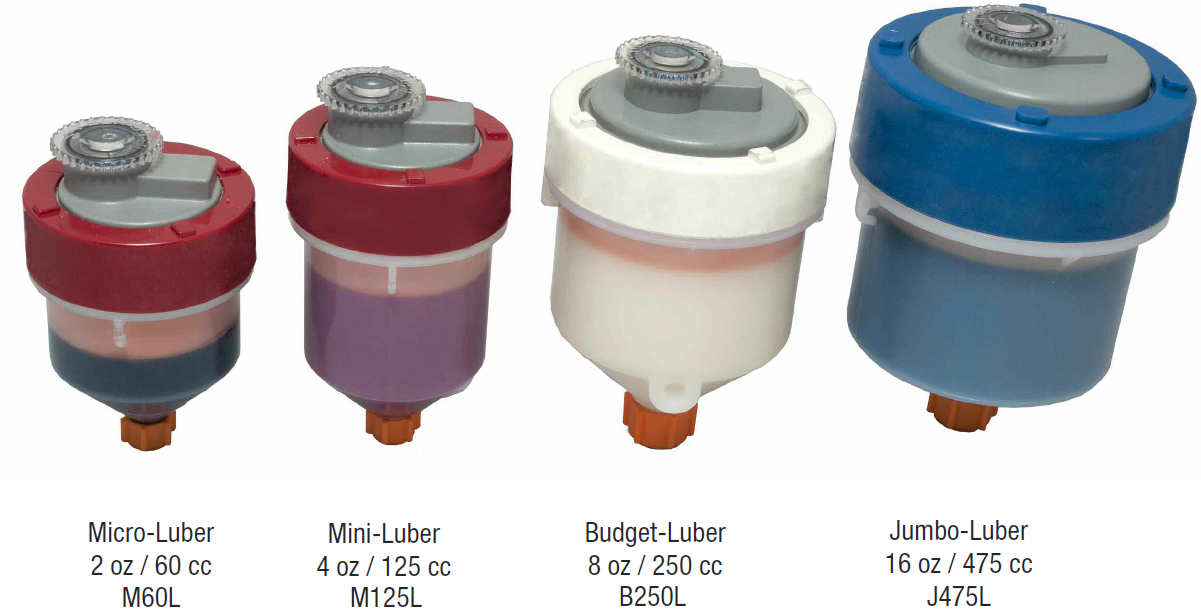 Developed in 1982, the Electro-Luber™ uses an electro-chemical reactor cell
which converts electrical energy into safe, inert gas. As the gas is produced,
internal pressure fills in the sealed bellows and is applied against the orange
piston. The piston then forces the lubricant out of the cylinder and onto the
point of lubrication.
Units are available with color rings:
"RED" – Standard Lube | "WHITE" – Food Grade Lube | "BLUE" – For LoTemp Lube
Motor-Driven Series
The Ultimate, Titan and Jack Lubers all have strong micro-motors
which develop power to pump lubricant through distributon blocks
and long feed lines. Perfect for Industrial applications where safety
and reliability are critical.
Titan Series
REMOTE POWER OPTIONS AVAILABLE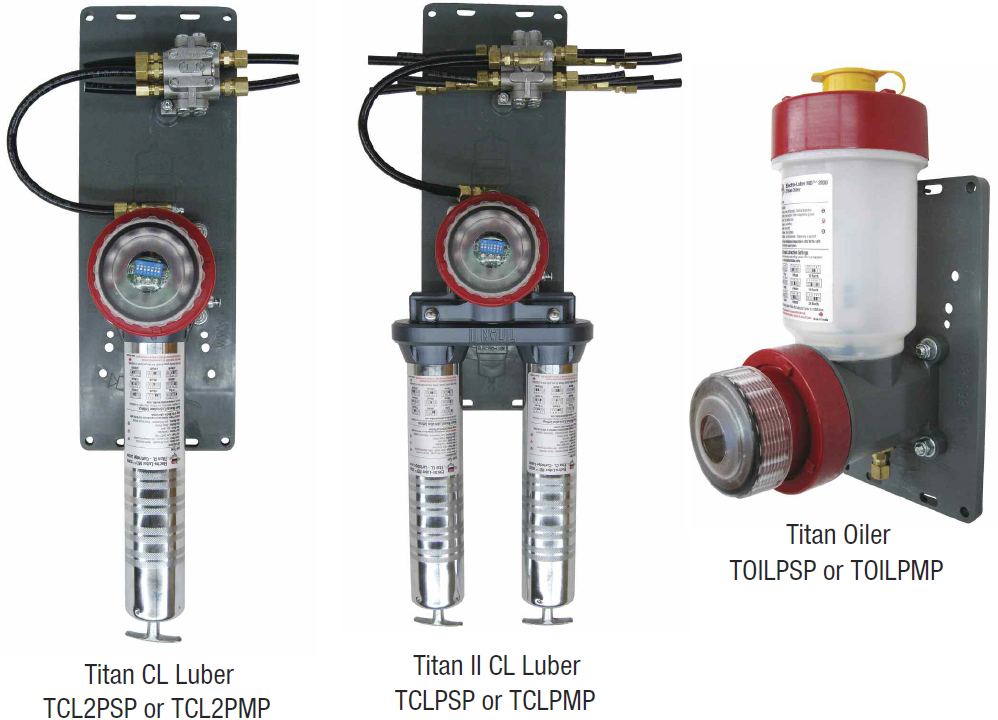 Powerful, motor-driven automatic lubricators, the Titan CL Luber and Titan Oiler are reliabe and easily refillable. Suitable for industrial applications where quality and reliablility are critical. Its microprocessor controlled, energy-efficient motor delivers lubricant to a fixed-displacement pump which can product pressures over 1,000 psi. This power and reliability allow the lubricators to pump grease through long feed lines and distribution blocks that can feed several applications simultaneously. This operation is not affected by temperature or altitude. Includes an internal blender which minimizes grease separation and enhances lube consistency.
Jack Luber Series
REMOTE POWER OPTIONS AVAILABLE
JAK125L

Jack-Luber

4 oz / 125 cc

shown with
Replacement
Cartridge

JAK250L

Jack-Luber

8 oz / 250 cc

shown with
Replacement
Cartridge
The Jack-Luber is a versatile product in the ATS line, with its proven motordriven technology incorporating the JACKSCREW mechanism. It also has a replaceable, single use cartridge that changes out quickly. The Jack-Luber drive can run off the ATS battery pack or optional AC or DC Adaptors. Producing over 200 psi, the Jack-Luber can be used in applications with long lube lines and even through a 2-port distribution block. Tough and reliable, the Jack- Luber saves you time and money while giving you trusted ATS performance.
T.T. Thermal Lube
TT – TT Thermal Lube
20 kg (44 pounds) pail

TT Thermo-CRTG

TT Thermal Lube filled

400g (14 ounces) Cartridge

T.T. THERMAL LUBE
FOR YOUR LUBRICATING NEEDS• T.T. Thermal Lube is an extreme temperature
grease-type lubricant, which contains no metallic
solids or other silicone fluids
• Compounded reactive polymers maintain a stable
viscosity over a wide temperature range from
20°C to 320°C (68°F to 608°F)
• High temperature applications to ball and roller
bearings where other lubricants fail due to gum
and carbon deposit formation
• Effective at constant operating temperatures of
220°C (428°F) with increases up to 320°C
(608°F) for short periods of time
• Excellent water wash characteristics, even when
subjected to hot water, steam or mild detergents
• Available in 400g (14 oz) cartridges and 20 kg
(44 pounds) pails

Composition & Ingredients:
Range in %
Synthetic Base Oils
> 93%
Inert organic and inorganic thickeners
and synthetic ester
< 7%
Additives which may include
antiwear agent
< 1